SBI Clerk 2021
SBI Clerk 2021 Exam: Every year, the State Bank of India, SBI conducts the SBI Clerk Exam to recruit candidates for the post of Junior Associate (Customer Support and Sales). For FY 2021-22, SBI has announced 5454 vacancies of Junior Associates, out of which 454 are Backlog vacancies. SBI Clerk Notification 2021 was released on 26th April 2021. Good news for the candidates who have been waiting for the SBI Clerk Mains Result for which exams were conducted on 01st and 17th October 2021. The SBI Clerk Mains Result is expected in November tentatively. Check details below.
SBI Clerk 2021- Overview
SBI Clerk Recruitment 2021
Name Of The Organization
State Bank of India
Name Of The Posts
Junior Associates (Customer Support and Sales)
Vacancies
5454
Frequency of Exam
Once in a year
Registration Starts
27th April 2021
Last Date to Apply
20th May 2021
Selection Process
Prelims- Mains
Category
Govt Jobs
Job Location
Across India
Official Website

sbi.co.in/careers
SBI Clerk Mains Result Out
SBI Clerk Final Result 2021 has been released on the official site @sbi.co.in on 17th November 2021. The candidates who have appeared for the SBI Clerk Final Exam 2021 can now check their SBI Clerk Final Result, SBI Clerk Mains Score card and SBI Clerk final Cut off 2021. The candidates can find the direct link to download the result and scorecard in the article below.
SBI Clerk Exam- Important Dates
SBI Clerk Exam Date was earlier postponed due to the pandemic. But now as the SBI Clerk Mains Exam has been successfully conducted the results are expected in November tentatively. Check other important dates for SBI Clerk 2021 from the below table.
SBI Clerk 2021 Events
Dates
SBI Clerk 2021 Notification
26th April 2021
SBI Clerk Online Application
27th April 2021
SBI Clerk the Last Date to Apply Online
 

20th May 2021

PET Call Letter
28th May 2021
Pre-Examination Training Dates
June 2021
Call letter for Preliminary Examination
 29th June 2021
SBI Clerk Exam Date 2021 (Preliminary)
10 – 13 July 2021, 29 Aug 2021
SBI Clerk Mains Admit Card 2021
21st September 2021
SBI Clerk Exam Date (Mains)
1st October and 17th October 2021
SBI Clerk Mains Result
17th November 2021
SBI Clerk Mains Score card
17th November 2021
SBI Clerk Notification 2021
SBI Notification for Clerical Cadre releasing 5000 regular vacancies and 454 backlog vacancies for SBI Clerk for FY 2021-22. The detailed advertisement has been released on 26th April 2021 on its official website against Advt no. CRPD/CR/2021-22/09. The direct link to download the detailed SBI notification has been attached below.
SBI Clerk 2021 Vacancy
The SBI vacancy for Clerk posts has been announced with 5454 total vacancies, out of which 5000 vacancies are for regular posts and 454 are for Backlog posts. The vacancy distribution for states and categories has been tabulated below, the interested candidates can check it out from here.
SBI Vacancy, Regular
SBI Clerk 2021: Regular Vacancies
Junior Associates (Customer Support & Sales) Vacancy
State
Language
GEN
EWS
SC
ST
OBC
Total
Gujarat
Gujarati
371
90
63
135
243
902
Karnataka
Kannada
160
40
64
28
108
400
Madhya Pradesh
Hindi
34
07
11
15
11
78
Chhattisgarh
Hindi
49
12
14
38
07
120
West Bengal
Bengali/ Nepali
111
27
62
13
60
272
A&N Islands
Hindi/ English
09
01
0
01
04
15
Sikkim
Nepali/ English
07
01
0
02
02
12
Odisha
Odia
31
07
12
16
09
75
Jammu & Kashmir
Urdu/ Hindi
07
01
0
01
03
12
Ladakh
Ladakhi/ Urdu/ Dogri
06
0
0
0
02
08
Himachal Pradesh
Hindi
74
18
45
07
36
180
Chandigarh
Punjabi/ Hindi
08
01
02
0
04
15
Punjab
Punjabi/ Hindi
120
29
85
0
61
295
Tamil Nadu
Tamil
206
47
89
04
127
473
Pondicherry
Tamil
02
0
0
0
0
02
Delhi
Hindi
33
08
12
06
21
80
Uttarakhand
Hindi
40
07
12
02
09
70
Haryana
Hindi/ Punjabi
50
11
20
0
29
110
Telangana
Telgu/ Urdu
111
27
44
19
74
275
Rajasthan
Hindi
72
17
29
22
35
175
Kerala
Malyalam
53
09
09
0
26
97
Lakshadweep
Malyalam
02
0
0
01
0
03
Uttar Pradesh
Hindi/ Urdu
145
35
73
03
94
350
Maharashtra
Marathi
286
63
63
56
172
640
Goa
Konkani
07
01
0
01
01
10
Assam
Assamese /Bengali/ Bodo
68
14
10
17
40
149
Arunachal Pradesh
English
08
01
0
06
0
15
Manipur
Manipuri
09
01
0
06
02
18
Meghalaya
English/Garo/ Khasi
07
01
0
06
0
14
Mizoram
Mizo
08
01
0
09
01
20
Nagaland
English
05
01
0
04
0
10
Tripura
Bengali/ Kokboro k
10
03
03
05
0
19
Total
2109
480
722
423
1181
4915
SBI Vacancies For Special Recruitment Drive
SBI Clerk 2021: Special Recruitment Drive
Junior Associates (Customer Support & Sales) Vacancy
State
Language
GEN
EWS
SC
ST
OBC
Total
Kashmir Valley
Urdu/Kashmiri/Dogri
19
04
03
04
10
40
Leh & Kargil Valley
Urdu/Ladakhi/Dogri
08
01
01
01
04
15
Dibang Valley, Dwang
English
05
01
0
04
0
10
Tura
Garo
05
01
0
04
0
10
Mokokchung
AO (Naga)
05
01
0
04
0
10
Total
42
08
04
17
14
85
SBI Vacancies: Backlog
| | |
| --- | --- |
| Categories | Vacancies |
| SC/ST/OBC | 121 |
| PwD | 96 |
| XS | 237 |
| Total | 454 |
a) Reservation For Pwd/Xs/Dxs Candidates Is Horizontal Reservation And These Are Included In The Vacancies Of Various Parent Categories.
(b) 4.5% of the total vacancies are reserved for Disabled Ex-servicemen and dependents of Servicemen killed in action, clubbed together. The first priority in the matter of appointment will be given to the Disabled Ex-Servicemen and second priority will be given to dependents of defence personnel killed in action or severely disabled (with over 50% disability attributable to defence services).
c) Vacancies reserved for the OBC category are available to OBC candidates belonging to the ''Non-creamy layer''. Candidates belonging to the OBC category but coming in ''CREAMY LAYER'', are not entitled to any relaxation/reservation available to the OBC category. They should indicate their category as General OR General (LD/VI/HI/ d&e) as applicable.
d) The OBC category candidate should submit the OBC certificate in the format prescribed by Govt. of India, having a "Non-Creamy Layer'' clause issued during period 01.04.2019 to the date of taking up the appointment, if selected.
e) Reservation for Economically Weaker Section (EWS) in recruitment is governed by Office Memorandum no. 36039/1/2019-Estt (Res) dated 31.01.2019 of Department of Personnel & Training, Ministry of Personnel, Public Grievance & Pensions, Government of India.
f) "EWS vacancies are tentative and subject to further directives of Government of India and the outcome of any litigation. The appointment is provisional and is subject to the income & Asset certificate being verified through the proper channels."
g) The benefit of reservation under the EWS category can be availed upon production of an 'Income and Asset Certificate' issued by a competent Authority on the format prescribed by the Government of India.
h) The candidates who are working in SBI in the Clerical or Officer cadre are not eligible to apply under this project. The candidates who were earlier employed in State Bank of India and resigned from the Bank while in clerical or officer cadre will also be not eligible to apply
for the post.
i) Candidates against whom there is/are adverse report regarding character & and antecedents, moral turpitude, etc. are not eligible to apply for the post
j) Candidates with a record of default in repayment of loans/credit card dues and/or against whose name adverse report of CIBIL or other agencies is available, will not be appointed in case of selection. The position in this regard will be verified before joining.
SBI Clerk Mains Exam Date 2021
The SBI Clerk Mains Exam 2021 was held on 1st October and 17th October 2021 for filling out 5454 vacancies. The candidates are suggested to bookmark this page as we will update them regarding the announcement of SBI Clerk Mains Result 2021 whenever they will be officially released on the SBI website.
SBI Clerk Online Application Form 2021
SBI Clerk Online Application Form was available till 20th May 2021. The apply online link, instructions for an Online Registration, as well as the requirements of the form, has been provided here. The candidates interested in the vacancies had applied.
SBI Clerk Registration Fee
The application fee for SBI Clerk 2021 must be paid online only within the stipulated time period.
Sr. No.
Category
Application Fees
1.
SC/ ST/ PWD/XS
NIL
2.
General/OBC/EWS
Rs. 750/-
(Application fees including intimation charges)
SBI Clerk Salary
SBI provides a handsome and lucrative salary to its employees, the important points for SBI Clerk Salary are as follows:
The revised SBI Clerk Pay Scale is Rs.17900-1000/3-20900-1230/3-24590-1490/4-30550-1730/7-42600-3270/1-45930-1990/1-47920. The initial salary package of an SBI Clerk in a Metro city like Mumbai has been revised to Rs 29000/- per month that includes the Dearness Allowance (D.A) & other allowances.
The SBI has revised the starting basic pay to Rs 19,900/- (Rs 17,900 with two advance increments admissible to graduates) for Clerk/Junior Associate in the SBI Clerk Notification 2021-22.
A candidate will be serving a period of 6 months on probation.
Further, the performance of the newly recruited employees will be evaluated before the probation period comes to an end and the probation period of those employees whose performance does not meet the expectation may be extended.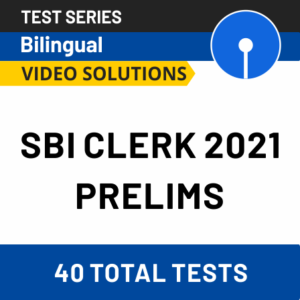 SBI Clerk Eligibility Criteria 2021
The candidates can check the details below to confirm their minimum eligibility regarding SBI Clerk 2021.
Age Limit (as on 01st April 2021)
The minimum age for a candidate to apply for the SBI examination is 20 years old but not more than 28 years old as of 01st April 2021. candidates must have been born not earlier than 02nd April 1993 and not later than 01st April 2001. Besides this, there is age relaxation relevant to category wise candidates as per the government rules:
S.No 
Category
 Upper Age Limit
1
SC/ST
33 Years
2
OBC
31 Years
3
Person with Disabilities (General)
38 Years
4
Person with Disabilities (SC/ST)
43 Years
5
Person with Disabilities (OBC)
41 Years
6
Jammu & Kashmir Migrants
33 Years
7
Ex-Servicemen/Disabled Ex-Servicemen

The actual period of service rendered in defence services + 3 years
8 years for disabled Ex-servicemen belonging to SC/ST subject to a max. age of 50 years.

8
Widows, Divorced, Women (No Married)

GEN –   35 Years
OBC –   38 Years
SC/ST –  40 Years
7 years (subject to the maximum age limit of 35 years for General/EWS, 38 years for OBC & 40 years for SC/ST candidates)
CUMMULATIVE AGE RELAXATION WILL NOT BE AVAILABLE EITHER UNDER THE ABOVE ITEMS OR IN COMBINATION WITH ANY OTHER ITEMS.
Nationality
Indian Citizenship
A Subject of  Nepal or Bhutan OR
A Tibetan Refugee who came to India before 1st January 1962 with the intention of permanent settlement OR
A Person of Indian Origin (PIO) who has migrated from Burma, Pakistan, Sri Lanka, Vietnam or East African countries of Zaire, Kenya, Tanzania, Uganda, Zambia, Ethiopia, Malawi, with the intention of permanent settlement in India OR
Candidates belonging to the category 2, 3, 4 must have a certificate of eligibility issued by the Govt of India in their favor.
Educational Qualification (as on 16th August 2021)
(a) He/she must hold a valid degree in any discipline from a recognized university.
(b) Candidates having integrated dual degree (IDD) certificate should ensure that the date of passing the IDD. Those who are in the final year/semester of their Graduation may also apply provisionally subject to the condition that, if provisionally selected, they will have to produce proof of having passed the graduation examination.
(c) Matriculate Ex-servicemen, who have obtained the Indian Army Special Certificate of Education or corresponding certificate in the Navy or Air Force, after having completed not less than 15 years of service in the Armed Forces of the Union are also eligible for the post.
Computer Literacy: Knowledge of computer operation is required for the SBI Clerk exam.
SBI Clerk Syllabus & Exam Pattern 2021
SBI Clerk exam comprises a prelims and mains exam, where the topics and difficulty level will differ.
SBI Clerk Prelims Syllabus 2021
Reasoning Syllabus– Logical Reasoning | Alphanumeric Series | Ranking/ Direction/ Alphabet Test | Data Sufficiency | Coded Inequalities | Seating Arrangement | Puzzle | Tabulation | Syllogism | Blood Relations | Input-Output | Coding-Decoding
Numerical Ability Syllabus– Simplification | Profit & Loss | Mixtures & Alligations | Simple Interest & Compound Interest & Surds & Indices | Work & Time | Time & Distance | Mensuration – Cylinder, Cone, Sphere | Data Interpretation | Ratio & Proportion, Percentage | Number Systems | Sequence & Series | Permutation, Combination &Probability
English Language Syllabus– Reading Comprehension | Cloze Test | Para jumbles | Miscellaneous | Fill in the blanks | Multiple Meaning /Error Spotting | Paragraph Completion
SBI Clerk 2021 Prelims Capsule: Download Now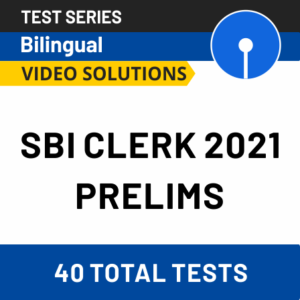 SBI Clerk Mains Syllabus 2021
General/Financial Awareness Syllabus
Current Affairs – news on the banking industry, awards, and honours, books and authors, latest appointments, obituaries, new schemes of central and state governments, sports, etc. | Static GK – country-capital, country-currency, headquarters of financial organizations (of insurance companies), constituencies of ministers, dance forms, nuclear and thermal power stations, etc | Banking/Financial terms | Static Awareness | Banking and Financial Awareness
Reasoning Ability Syllabus
Internet | Machine Input/Output | Syllogism | Blood Relation | Direction Sense | Inequalities | Puzzles | Coding-Decoding | Ranking | Statement and Assumptions
Computer Awareness Syllabus
Basics of Computer: Hardware | Software | Generation of Computers | DBMS | Networking |Internet | MS Office | Input-Output Devices |Important Abbreviations
SBI Clerk 2021 Exam Pattern
The SBI Clerk Exam 2021 will be held in two phases, Prelims and Mains. The best part of the SBI Clerk Exam is that there will not be an interview. However, one will have to qualify for the SBI Clerk Prelims and Mains Exam.
There will be a sectional time session.  The candidates will have to pass the Sectional Cut-off as well as an overall cut-off. The SBI Clerk cut-off is applicable to the SBI  Clerk Prelims and Mains Exams. All the questions for SBI Clerk Exam will be objective in nature, i.e. all the questions will be Multiple Choice Questions (MCQ's)
SBI Clerk Prelims Exam Pattern
No of Questions- 100: English- 30, Numerical ability- 35, Reasoning- 35
Total Marks- 100: Each question 1 marks, Negative Marking- 1/4 or 0.25 marks
Duration of SBI Clerk Exam- 60 Minutes: 20 minutes each section
SBI Clerk Mains Exam Pattern
No of Questions- 190: English- 40, Quantitative Aptitude- 50, Reasoning Ability and Computer Aptitude- 50, General/ Financial Awareness- 50
Total Marks- 200: Each question 1 marks, Negative Marking- 1/4 or 0.25 marks
The questions in objective tests, except for the test of General English, will be bilingual i.e., English & Hindi.
Total Duration- 2 hours 40 Minutes
| | | |
| --- | --- | --- |
| Section | Total Marks | Duration |
| General English | 40 | 35 minutes |
| Quantitative Aptitude | 50 | 45 minutes |
| Reasoning Ability and Computer Aptitude | 60 | 45 minutes |
| General/Financial Awareness | 50 | 35 minutes |
| Duration of Exam | 200 | 2 hours 40 minutes |
SBI Clerk 2021 Selection Process
SBI Clerk selection criteria consist of 2 phases (preliminary and mains).
Online Preliminary Examination: A certain number of candidates from different categories are shortlisted by SBI depending upon the requirements for Online Main Examination
Online Mains Examination: Candidates are required to score passing marks and above in the main exam to qualify each section as well as the overall cut-off in the main exam to be eligible for the Final Selection.
Final Result: A merit list is released under the Final result is declared on the basis of the merit list in SBI Clerk Mains Exam.
SBI provides allotment to the candidates on the basis of preference made during registration. SBI is thus important for provisional allotment, date of exam and joining dates and other formalities will be informed soon
Practice with
SBI Clerk Previous Year Question Paper
How to Apply Online for SBI Clerk 2021?
Step 1: Click on the official link, provided above.
Step 2: Click on the Apply link given on the page. A registration link will open up in the new window.
Step 3: Click on New Registration in the application window. Then click on the register button.
Step 4: Candidates need to provide personal credentials like name, parents' name, date of birth, email id, mobile number, etc.
Step 5: Click on the submit button to the completed online registration. All the candidates will be issued Registration ID. Then, log in with the provided Registration ID, date of birth, and password to complete registration for SBI Clerk 2021
Step 6: In the next step, upload photograph and signature following the requisites mentioned by SBI.
Step 7: Login with registered ID and password to fill up the Part-2 of the application form.
Step 8: After filling up the application form, candidates need to preview the application form once to verify the entire data entered
Step 9: Click on Final Submit button after verifying the entire online SBI Clerk Application Form 2021
Candidates can download and get print copies of the submitted application form. Finally, submit the application fee either via online mode or offline mode of fee payment.
SBI Clerk 2021, Documents To Upload
1. Photograph
Dimensions: 4.5 cm * 3.5 cm
Size: 20 KB to 50 KB
2. Signature: 
Size: 10 KB to 20 KB.
Points To Note for Uploading Documents
Candidates must NOT sign in CAPITAL LETTERS while applying for the SBI Clerk 2021.
A Valid Email ID must be provided at the time of Registration
SBI Clerk Admit Card 2021
The SBI Clerk Mains Admit Card has been made available on 21st September 2021 for the Mains Exam scheduled for 01st and 17th October 2021. One must log in to his/her account created while filling in the online application form and download the admit card. To login on to the official website of SBI, a candidate is supposed to have:
Registration Number/Roll Number
Date of Birth/Password
How to Download SBI Clerk Admit Card?
Step 1 – Click on the link provided below to download the Admit card.
Step 2 – A new page will appear on the screen of your device.
Step 3 – Here you will have to enter your "Registration ID" and "Date of Birth/Password".
Step 4 – Enter the Captcha.
Step 5 – Click the Login button.
Step 6 – The call letter will appear on the screen
Step 7 –  Click the print/ download button to save the SBI Clerk Call Letter for your future reference.
SBI Clerk Mains Result 2021
The SBI Clerk Mains Result 2021 has been out on 17th November 2021. Check given instructions for checking SBI Clerk Mains Result:
 Click on the link provided below to check SBI Clerk Result.
 Download the PDF file (The file contains the shortlisted data of selected students).
 Candidates can use CTRL+F to search the Roll number from the Merit list.
 Roll no. present in the merit list will be selected for the post of Clerk.
Know about SBI Clerk Scorecard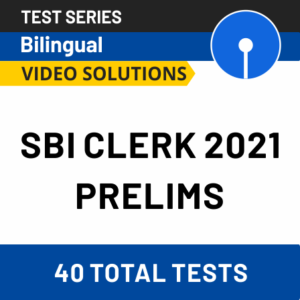 SBI Clerk Previous Year Cut Off
Cut Off Marks for SBI Clerk 2020 Mains Exam
SBI Clerk Mains Cut-Off 2020 (Category-wise and State-wise)
State/UT
Gen
OBC
SC
ST
EWS
Uttar Pradesh
90.25
78
64.25
60
82.25
West Bengal
86.75
69.25
65.5
60
70.75
Gujarat
82.75
73
66
60
74.5
Delhi
98.75
83
73.5
62.25
87.5
Chandigarh
96.75
81.75
77.25
–
94.75
Punjab
96.25
78.75
69.25
–
88
Maharashtra
84
77.5
75.5
60
76.5
Telangana
86.75
81.75
69.25
60.75
81.5
Himachal Pradesh
87.25
72
–
–
–
Andhra Pradesh
88.75
83.75
–
–
–
Uttarakhand
91
–
–
–
–
Rajasthan
90.25
82.75
66.5
60
80.75
Tamil Nadu
92.75
89.75
74.75
60.75
72.25
Karnataka
89.05
75.25
64.25
60
74.25
Madhya Pradesh
89.25
–
–
–
81.5
Odisha
87.75
83.25
–
–
79.25
Cut Off Marks for SBI Clerk 2019 Prelims Exam
| | |
| --- | --- |
| State | Cut off (Gen) |
| Uttarakhand | 75.25 |
| Gujarat | 65.50 |
| Madhya Pradesh | 73.50 |
| Jharkhand | 75.00 |
| Uttar Pradesh | 72.25 |
| Punjab | 76.25 |
| Tami Nadu | 61.25 |
| Himachal Pradesh | 71.75 |
| Telangana | 68.50 |
| Maharashtra | 62.25 |
| Bihar | 76.25 |
Know more about SBI Clerk Cut Off
Points to Remember
SBI Clerk is conducted to appoint Junior Associates/ clerical post candidates.
A huge number of candidates appear for the exam as per the past trends.
Another unique point about the SBI Clerk exam is that for the candidates of the minority community, there is training (pre-exam training) that has been introduced in consonance with the guidelines issued by the Government of India.
Candidates who are selected as SBI clerks are designated as cashiers, depositors, and other posts that represent the SBI Bank branch.
You can prepare for SBI Clerk Exam from adda247.com
SBI Clerk 2021 FAQs
Q 1. How much is the application fee for SBI Clerk?
Ans. The application fee for General/OBC/EWS is Rs. 750/- and SC/ ST/ PWD/XS is exempted from the SBI Clerk application fee.
Q 2. Is there any interview round for SBI Clerk Selection?
Ans. No, there is no interview round for SBI Clerk recruitment.
Q 3. What is the Age Limit for the SBI clerk?
Ans. The age limit for SBI Clerk 2021 is 20-28 years. There is age relaxation for different categories.
Q 4. How can I apply for SBI Clerk Online 2021?
Ans. Candidates can apply for the SBI Clerk Online Application by click on the link provided in the article. Candidates can also check the instructions to apply online for SBI Clerk Application.
Q 5. When did the SBI Clerk notification release?
Ans. SBI Clerk 2021 notification has been released on 26th April 2021.
Q 6. Is there any negative marking in the exam?
Ans. Yes, there is a negative marking in the exam. 1/4th marks are deducted for wrong answers.
Q 7. Is SBI Clerk easy to crack?
Ans. With smart preparation with the updated exam pattern and syllabus, you can crack SBI Clerk. SBI Clerk is easier to crack than SBI PO.
Q 8. Can a final year student apply for SBI Clerk?
Ans. No, the final year student cannot apply for an SBI clerk. A graduation degree is mandatory for applying for SBI Clerk 2021
Q 9. When is SBI Clerk Prelims Exam Date 2021 scheduled for?
Ans. SBI Clerk Prelims Exam has been rescheduled for 10th, 11th, 12th, and 13th July 2021.
Q10. When will SBI Clerk Mains Result be released?
Ans. The SBI Clerk Mains Result 2021 has been released on 17th November 2021.