IBPS PO Previous Year Question Paper
IBPS PO Previous Year Question Paper: The Institute of Banking Personnel Selection (IBPS) has already released the IBPS PO 2021 Notification for the post of Probationary Officers (PO) on its official website @ibps.in. Knowing what type of questions and difficulty level is followed in the examination gives a clear idea of strategising the preparation for the upcoming exam. The best way of revising and analysing your preparation is practising previous year question papers as this would be of great help for enhancing speed and accuracy.
IBPS PO Previous Year Paper with Solution PDF
We have provided you with the memory-based question papers of the previous years of IBPS PO, if you are preparing for the upcoming bank exam for PO then you must attempt these question papers and cross-check your answers from the solution pdf provided along with them. The last date to apply online for IBPS PO 2021 is 10th November 2021. The candidates will be selected through Prelims, Mains, and Interview rounds. The Prelims Exam consists of English, Quantitative Aptitude, and Reasoning. The Mains Examination will have just one additional section, i.e. of Current Affairs and Basic Computer Proficiency. Download the IBPS PO Previous Year Question Paper PDFs from the article below and start your revision now.
IBPS PO Memory Based Prelims 2020
Apart from the syllabus and mock tests, candidates who are preparing for IBPS PO 2021 should practise with these previous year papers and prepare smoothly for the exam. Download IBPS PO Prelims 2020 Memory-based Question paper along with solutions from here.
| | | |
| --- | --- | --- |
| Paper | Question Paper PDF | Solution PDF |
| IBPS PO Prelims 2020 | Click to Download | Click to Download |
IBPS PO Memory Based Prelims 2019
Download the memory-based papers for IBPS PO 2019 (Prelims) along with their solutions from the direct link below
| | | |
| --- | --- | --- |
| Subject | Question Paper PDF | Solution PDF |
| Reasoning Ability | Click to Download | Click to Download |
| Quantitative Aptitude | Click to Download | Click to Download |
| English Language | Click to Download | Click to Download  |
IBPS PO Memory Based Prelims 2018
Download the memory-based papers for IBPS PO 2018 (Prelims) along with their solutions from the direct link below
| | | |
| --- | --- | --- |
| Subject | Question Paper PDF | Solution PDF |
| Reasoning Ability | Click to Download | Click to Download |
| Quantitative Aptitude | Click to Download | Click to Download |
| English Language | Click to Download | Click to Download |
IBPS PO Memory Based Mains 2018
Download the subject-wise memory-based papers for IBPS PO 2018 (Mains) along with their solutions pdfs from the direct link below
| | | |
| --- | --- | --- |
| Subject | Question Paper PDF | Solution PDF |
| Reasoning Ability | Click to Download  | Click to Download  |
| Quantitative Aptitude | Click to Download | Click to Download |
| General Awareness | Click to Download | Click to Download |
| English Language | Click to Download | Click to Download |
Detailed IBPS PO Exam Pattern
Detailed IBPS PO Syllabus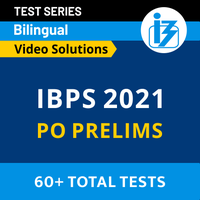 IBPS PO Memory Based Prelims 2017
Download the memory-based papers for IBPS PO 2017 (Prelims) along with their solutions from the direct link below
| | | |
| --- | --- | --- |
| Subject | Question Paper PDF | Solution PDF |
| Reasoning | Click to Download  | Click to Download |
| Quantitative Aptitude | Click to Download | Click to Download |
| English Language | Click to Download | Click to Download |
IBPS PO Memory Based Mains 2017
Download the memory-based papers for IBPS PO 2017 (Mains) along with their solutions from the direct link below
| | | |
| --- | --- | --- |
| Subject | Question Paper PDF | Solution PDF |
| Reasoning Aptitude | Click to Download | Click to Download |
| English Language | Click to Download | Click to Download |
IBPS PO Memory Based Prelims 2016
Download the memory-based papers for IBPS PO 2016 (Prelims) along with their solutions from the direct link below
| | | |
| --- | --- | --- |
| Subject | Question Paper PDF | Solution PDF |
| Reasoning Ability | Click to Download  | Click to Download |
| Quantitative Aptitude | Click to Download | Click to Download |
| English Language | Click to Download | Click to Download |
IBPS PO Memory Based Mains 2016
Download the subject-wise memory-based papers for IBPS PO 2016 (Mains) along with their solutions from the direct link below
| | | |
| --- | --- | --- |
| Subject | Question Paper PDF | Solution PDF |
| Reasoning Ability | Click to Download | Click to Download |
| Quantitative Aptitude | Click to Download | Click to Download |
| English Language | Click to Download | Click to Download  |
Also Read,
| | |
| --- | --- |
| IBPS PO Prelims Admit Card | Check IBPS PO Cut Off Marks |
|  IBPS PO handwritten declaration | Check IBPS PO Salary |